Rachel Steele was born and raised in New England. Rachel married young and had 2 children. 3 years later she divorced due to domestic violence. She relocated to Tampa Florida where she worked as a nail technician in a hair salon. She eventually purchased the salon and ran it successfully for a decade. After several relationships, she met and married her partner known as "Frank Steele" together they built Red MILF Productions and Rachel-steele.com which evolved into a TABOO Empire that is still active today.
Rachel Steele's TABOO career started in 2006 after her partner submitted to an adult website a sexy poolside image of Rachel wearing a lifeguard tank and a skimpy red thong which won first prize. Rachel realized this was an opportunity to take her creative skills to the next level. She began by shooting for fetish producers in Tampa building a name for herself. Rachel started webcam shows through a UK company where she eventually opened her website. The content she produced was then being sold on several download fetish sites like Clips4Sale her favorite place as this site and the fantastic owner Neil helped her move. Swiftly, Rachel's talent, sex appeal, and love for producing TABOO sent her content to the top of the charts where she stayed for almost a decade. Tragically, Frank Steele was diagnosed with colon cancer and passed away 2 months later. Rachel went home to New England (Portland, Maine) to heal and take a hiatus from shooting. Rachel credits her loyal fans (most of them over 10 years) for inspiring her back into shooting. Rachel returned from the ashes like a phoenix rising stronger and more confident than ever! 7 years in Maine passed when she met a fan online who struck her fancy, she met him and began a romance like no other and is now engaged to him. Rachel and her partner Ares Steele shoot together and run Red MILF Productions and rachel-steele.com
Rachel Steele's content embodies a plethora of fetish fantasies, all the ideas came from the fans. Rachel produces what you want to view. She masters the art of MILF, Family FANTASIES, TABOO, Wonder Woman, and other Superheroes. Damsel in Distress, Horror, Solo JOIU, Audio Erotica, Foot Fetish, Worship, Dominatrix, Smoking, and Adult Baby. The list goes on the evolve up to the current day. Rachel can be found on Twitter @redmilfrachel, Onlyfans, and Instagram @rachelsteeltaboo, podcasts she did are listed in the linktree. Rachel offers many customizable services such as custom videos, one and one live chats, signed pictures, worn garments, and much more.
Rachel Steele is the Original Taboo MILF, many copies of her but none have the quality and talent Rachel Steele and Red MILF Productions offers. Join, sit back and get ready for over 5000 Unique, original films by the OG TABOO MILF RACHEL STEELE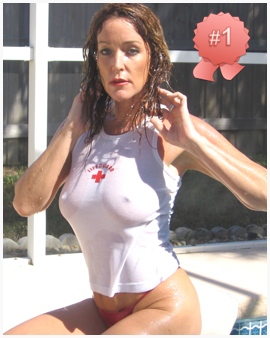 Personal Interests
Hiking, Yoga, Cooking, Roller Coasters, Hot Young Men, Hockey, Belly Dancing, Castles, and Renaissance Festivals.
Fan Feedback & Reviews
How I Met Rachel in Real Life
What I'd like to do is tell you the unlikely story of how me and Rachel became close friends. a) Because I'm extremely proud of our friendship and b) because I still can't believe it myself!
Comment from a Fan from Georgia
You're ridiculously sexy. Many people say there are women with the whole package but none of them have an ass or tits like yours, with such an amazing stomach and legs to match it. Your face is absolutely gorgeous, and the way your eyes cut to look at people is super attractive. I cum more watching and thinking of you than anyone else. You're truly a dream.
Comment from a Fan Dave
Rachel, I like you to know how much I like you and the young guy together in videos "Mother's Lesson", "Man of the House" and "Mother's Dirty Dream", but I also wanted you to know how beautiful you are in these videos. Please continue this series with this young gentleman. These videos are extremely hot! The chemistry between you two is obvious and erotic. I have the feeling that you two have something going off screen also. I am somewhat jealous! I would give anything to have sex with you. He is such a lucky guy. I can only imagine how erotic it would be to watch you two together in person!
Keep up the outstanding work or is it work that you do? Thank you for your great videos.
Custom Video Feedback
You are an amazing woman of unsurpassed beauty, charm and grace. You have such a presence on camera and communicate the scene so well, not just with what and how you speak, but your non-verbal cues. I sense a woman with a witty sense of humor, always sexy and very bright. Beauty and brains.
The video was AWESOME and you never disappoint. In fact I've decided in my very unbiased opinion that your beauty ranks with Sophia Loren because like her, you only get more beautiful with each passing day.
I hope you're not thinking of retirement because I still have more ideas to send your way. Thanks again!
Review in Sins & Sinks
Red MILF Produtions is, as it's name suggests, an independent MILF production magnet, managed by porn star and MILF Rachel Steele, and is also home to Stacie, Lexie Lee, Katie, Charlotte, Dallas, Misty, Jessica, and Angel. These things...
Rachel's interview for Daniel's Porn Blog
Here is an interview for Daniel a couple years back about me and what I do. Enjoy!
Compliment
You're one of a kind Rachel, a total mind fuck and I was so turned on meeting you.
I know quite a few MILFs that are pretty sexy, but you definitely push that MILF fantasy and make it real on a whole new level.